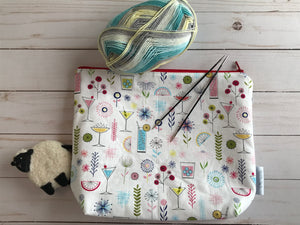 Sock Project Bags
---
A small zippered sock project bag or large notion tote to keep all the little things together that you need on-the-go. They can be used for any & all items such as knitting notions, embroidery supplies or make-up in your suitcase.
It could also fit a small knitting, crochet or embroidery project to keep it protected. Roll down the top portion of bag and use to work your project from.
 Made with new 100% cotton, nylon zipper and fusible fleece for added padding.
Approx. size 8.5"W x 11"L ( 10" zipper opening) with a 3" box bottom
 Due to the nature of the fabric, items may vary slightly from photo. Zippers and lining will vary per item, but will match nicely with the outer fabric.
 Made in a smoke-free studio.
 All items other than bag in photo are not for sale. Display purposes only.